Our regular readers will know that I am a big Aeroplan fan (many redemption options, many partners, and credit card offers).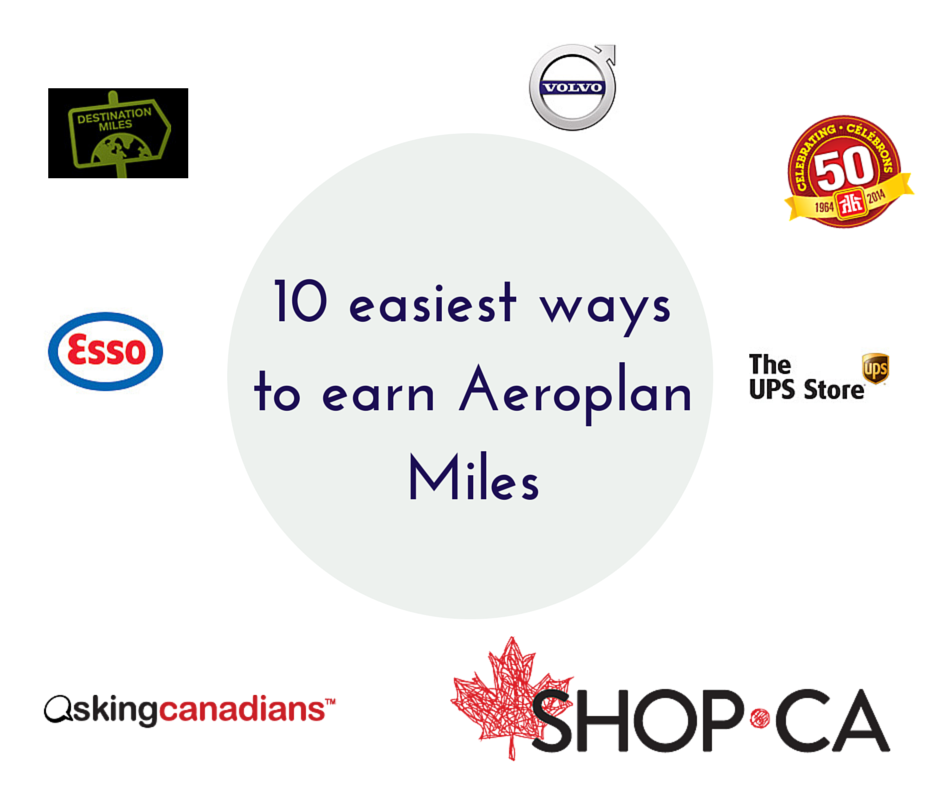 I wanted to share 10 of the easiest ways to earn Aeroplan miles.
1. Get an eye exam.
FYidoctors provides complete vision care for you and your family, and they are offering Aeroplan miles.
New patients earn 5x the miles with a complete eye exam. Plus, all Aeroplan Members get 500 miles with the purchase of premium personalized lenses.

If you have benefits at work, it is crazy not to get an eye exam (they are more costly than most places) but it is your health at stake!
Book an appointment at one of our 100 locations across Canada to get a complete eye exam and earn even more Aeroplan Miles.
2. Fill up your car at Esso.
Most gas stations around Canada are the same – gas is gas and the price is around the same (at least here in Victoria).
I like to fill up at Esso (I can buy my gift cards at Target to get my 5% off or Shop.ca) and collect a few Aeroplan miles with my fill-ups.
3. Buy gift cards at Shop.ca
This is a major partner of Aeroplan. You earn 1 Aeroplan mile for every dollar spent and you earn 1 additional mile if you are Distinction.

They always have promos, like earn 10x miles for your purchase.
I like to buy my gift cards as I can double-dip my purchases at Shop.ca.
4. Do a survey.
AskingCanadians is an online research community dedicated to providing our members with an opportunity to make their voices heard.
Your opinions and time are valuable so they'll reward you for every survey you complete. You'll automatically earn Aeroplan® Miles.
5. Buy something at UPS store.
Earn 1 Aeroplan Mile for every $1 you spend in store with The UPS Store in Canada—up to 1,000 miles daily.

Plus, when you first sign up for the Get More card with The UPS Store, you'll earn an additional bonus of 500 bonus miles and then earn miles even faster—up to 1.5 miles for every $1 you spend. What's more, get 10% off every time you shop in store.
Certain restrictions apply. See details in store and at theupsstore.ca/small-business-solutions.
6. Buy something at the Aeroplan eStore.
Shopping online through Aeroplan eStore is easy, secure, and fun! Simply log in, start shopping and earn Aeroplan Miles on every purchase.

They have merchants like Ebay, Chapters, and The Bay.
You'll earn at least 1 Aeroplan Mile for every $1 you spend. They usually have promos where you earn 5x each dollar spent.
7. Test drive a Volvo.
Experience Volvo innovations for yourself. Take a Volvo for a test drive and earn 250 bonus miles. It's just one of the many ways to earn with Volvo.
I did this when they had a promo and I earned 2,500 Aeroplan miles.
8. Book your travel with Destination Miles.
You'll receive one Aeroplan Mile for the equivalent of every CAD dollar spent when you book hotel stays and car rentals.
Simply book online
or through the Destination Miles Travel Desk at 1‑866‑343‑4364 and earn 1 mile for every $1 spent.
9. Sign up for emails from Home to earn 100 Bonus Aeroplan Miles.
This is really easy!
10. Get a first year no annual fee Aeroplan affiliated credit card.
That's enough for a round-trip flight almost anywhere in North America!
Enjoy!
Are there any methods I am missing to earn Aeroplan Miles easily?