Delta Hotels & Resorts has now joined Marriott International, becoming the newest hotel brand of the Marriott Rewards®Program.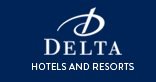 Members will continue to earn Aeroplan Miles for their eligible stays with Delta hotels as follows:
Beginning June 18th, 2015 until February 2016:
• All Aeroplan Members will receive 500 Aeroplan Miles per eligible stay at any Delta hotel or resort property.
• To earn miles during this period, you must present your Aeroplan Number upon every check-in. Your Aeroplan Number will not be stored by Delta during this time.
Beginning February 2016:
• Aeroplan Members will be able to earn 2 miles for every qualifying US$ spent as a member of Marriott Rewards for stays at Delta Hotels and Resorts.
• Members will earn Aeroplan Miles by joining the Marriott Rewards program and/or updating their membership profile to earn "Miles" with "Aeroplan".
• Previous clients of Delta Hotels and Resorts may have already been pre-enrolled into Marriott Rewards.
Here is a link to any questions you may have.