I found a nice credit card offer to earn 3,000 AIR MILES Bonus Miles plus a Companion Flight Rebate, and you will also have no annual fee (worth $120).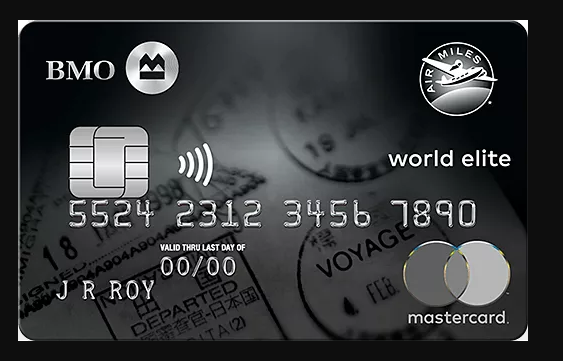 Receive 1,000 Bonus Miles after your first purchase using your Credit Card Receive an additional 2,000 Bonus Miles when you spend a minimum of $3,000 (less refunds and excluding cash advances, cash-like transactions, interest charges, fees, credit or debit adjustments) on purchases using the Credit Card within the first three (3) months from the Credit Card open date.
Companion Flight Rebate Offer: To be credited the Dream Miles for your Companion flight ticket, you must book any two flights (one way or return) for travel anytime (subject to availability from participating suppliers at the time of booking) through airmiles.ca using your Dream Miles before November 30, 2018. Both flight tickets must be booked in the same transaction, and on the same itinerary (both flights must be travelling on the same day, departing from the same location in Canada, and arriving to the same destination). You must have accumulated a sufficient balance of Dream Miles in your Collector Account to use for both flights in the same transaction to be eligible for this Offer. You will be credited the number of Miles back into your Dream Account that is equal to one flight ticket* (excluding all taxes, fees and applicable surcharges) within 45 days after your flight booking.
Exclusive 25% Flight Discount: Fly on any AIR MILES flight within North America for 25% fewer Miles when you book through airmiles.ca or by calling 1-888-247-6453. For example, you could redeem a 1,300 Miles flight for only 975 Miles.* *If you have the BMO AIR MILES World Mastercard or BMO AIR MILES World Elite Mastercard, when you redeem Miles for a flight in North America you will receive a 25% discount from the number of Miles you would ordinarily require. North America includes flight travel within Canada, from Canada to the United States of America, including Hawaii and Alaska, excluding Puerto Rico and flight travel within the United States, and flight travel to and from Mexico. This benefit does not apply to Cash + Miles Rewards. For flight redemptions: There are no blackout periods. This benefit does not apply to the cash portion of the flight redemption (such as airport improvement fees and booking fees) or to the flight component of package vacations and cruises. The mileages quoted are for low season, round-trip travel on economy flights under the regular AIR MILES flight offer. This benefit cannot be combined with any other offer. To redeem for Travel Rewards, you must have accumulated sufficient AIR MILES Miles in your Dream Balance. Collectors must pay applicable surcharges, fees and taxes on air travel Rewards. Travel Rewards may be subject to a minimum advance booking and availability from participating Suppliers. For complete details, see current Program Terms and Conditions available at airmiles.ca or the AIR MILES Customer Care Centre at 1-888-AIR MILES(in Toronto (416) 226-5171).
exclusive VIP access to airport lounges worldwide with Priority Pass membership, plus two annual complimentary passes (a $150 value)
Miles twice at AIR MILES partners when you show your AIR MILES Card too
BMO AIR MILES World Elite Travel and Medical Protection offering 15 days of Out of Province / Out of Country Emergency Medical protection up to $2MM, Collision Damage Waiver on rental cars, and more.
purchase protection and extended warranty on most items bought with your card.
This seems like a good deal with the 3,000 Air Miles (worth at least $300 if you use the Cash Air Miles option).
The Companion flight is interesting but I have given up on Air Miles and just use Cash Miles (I don't pay for gas at Shell this way).