When 3-star and 4-star hotels have unsold rooms, they use Hotwire to fill them, so you get them at prices lower than booking directly at the hotel. Hotwire® is similar to Priceline®, where you are shown the name of the hotel after you book to get hotel stays that are significantly below published prices.
When you visit Hotwire.com, you simply choose the Hotels option and enter your destination, dates, number of rooms, and number of adults and children that are staying.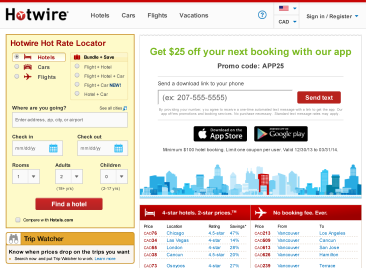 After pressing the Find a hotel button, Hotwire® will take you to a page where you will see two tabs, Hotwire® Hot Rates and Standard Rates. The Standard Rates tab just shows hotels and the price per night is next to each listing. The Hotwire® Hot Rates tab breaks down the city by zone and star-rating.
In each zone you will see that price per room and included amenities are shown. If you click on the Area Map hyperlink, you will see what the zone boundaries are for the map.
Another nice feature in Hotwire® is that they provide a small sample of the hotels in that particular zone at the star-rating you are looking at. My experience has been that I rarely get a hotel that appears in this list, but that gives me enough information to make an educated guess as to which hotel I might get.
On the side of the page, you will find additional filters like star-rating, reviews, price, and hotel amenities. This is a nice feature, because if you are looking for a hotel with an indoor pool or free breakfast or free Internet, you can filter out hotels where those amenities are not available.
How to get a good price on Hotwire®?
Before you start to look closely at the prices, I recommend looking at historical information on what other users have received for hotel prices using Hotwire®.
I recommend using the website Hotels Deals Revealed. This is a forum where former Hotwire® users name the hotels they received from Hotwire®. Each user shares the price that they paid, along with the star rating, dates, and amenities included.
Another great resource is Better Bidding. This is another forum website where locations are organized by geographical area. The list in each thread list is only a compilation of hotels that have already been reported on the forum.
How to guess which hotel you'll get on Hotwire®
One of the main reasons people avoid using Hotwire is the uncertainty in the hotel they are getting for a successful bid. I wanted to show an example of how you can use a combination of the Trip Advisor rating, amenities list, and other tools to make an educated guess to see what hotel is being offered to you.
We will work this sample listing in Orlando, Florida. It is rated a four-star hotel in the SeaWorld South area with a Fitness Center, Pool(s), Business Center, and Laundry Facilities (self-service).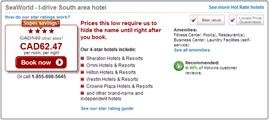 If you click the "Book now" red box you will learn more details about the actual hotel. If you scroll down near the bottom of the page, you will see the customer ratings courtesy of TripAdvisor.com.
This shows that the mystery hotel has an average rating of 3.5 out of 5 on the TripAdvisor® website. Take a close look at the TripAdvisor® results and narrow down the star-level, and try to match the amenities and TripAdvisor® rating.
If you are unsuccessful matching up the mystery hotel, try using the website Hotwire® Revealed. Their results page will list all of the current Hotwire.com deals that match your criteria. Once you've found a hotel description you like, click the Reveal button to see which hotels it's likely to be. The higher the match percentage of a particular hotel, the better the match between that hotel and the description you've selected.
Here is a sample of a reveal from Hotwire® Revealed.
The final recommendation I have is to use the Bid Goggles website.  This website is a sophisticated database of Hotwire hotels. Bid Googles uses information sent to them from other Hotwire users that have recently made a purchase. The website matches the Hotwire description with the description of similar hotels that other travelers have visited.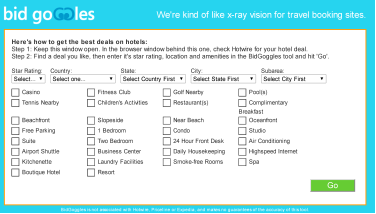 Here is an example of a hotel search in Victoria, BC. One of the listings is for a four-star hotel for $94 per night. When I hover over the See hotels in this class hyperlink, the popup brings up hotels like the Victoria Marriott Inner Harbour, Delta Victoria Ocean Pointe, and the Fairmont Empress. The amenities for this hotel are also shown in the listing at the bottom.
With the information that you have from Hotwire®, copy the hotel's amenities, star rating, and location into the Bid Goggles website and the tool will attempt to match that mystery hotel to a hotel in its database.
Reasons why you shouldn't use Hotwire®
Hotwire® can save you money on your hotel room, but read these tips before you start booking:
Your booking is non-refundable.
All sales are final on Hotwire.com. I always wait until I am sure I will be making the reservation and not making any changes. I recommend booking a hotel that offers a free cancellation policy prior to booking with Hotwire®. This gives you a backup plan.
You will not earn points for your hotel's loyalty program.
When staying using Hotwire® bookings, you will not earn any loyalty points. This means no points for the stay, and none of the benefits you might have by being a loyalty program member. If you have status in a hotel loyalty program, and want to take advantage of the benefits of that, you shouldn't use Hotwire as your booking engine.
Hotels have the option to give you status benefits.
As a status member with several hotel chains including, Hilton, Marriott, and Priority Club, I have come to expect free Internet, lounge, and some type of breakfast. Booking through websites like Expedia or Hotwire, it is up to the hotel to decide if I am still eligible to receive these benefits.
Resort fees and parking are not included in the price.
These fees can be close to $20 per day, so they can certainly add up.