For a limited time, you'll receive Double Aeroplan® Miles each time you fly round-trip to select destinations in Canada until October 31, 2014.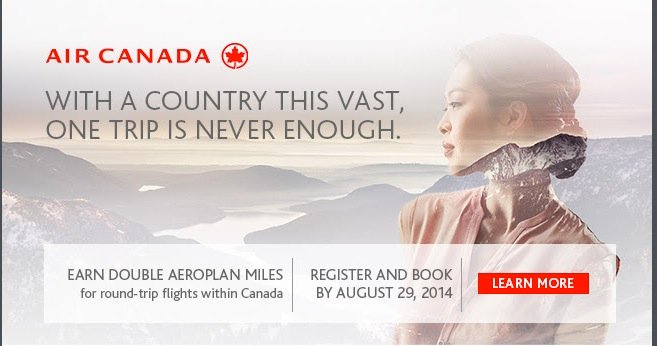 Simply register and book by August 29, 2014 . Make sure you register even if you don't plan to fly (you never know when you might see a good seat sale or book a trip for work)!
Eligible routes:
Must register between July 8, 2014 and August 29, 2014. A one-time registration is required and can be completed online at www.aeroplan.com. Due to GMT time on web, the registration page will remain active until August 30, 2014 at 02:59 Eastern Standard time.

The Bonus Aeroplan Miles for eligible flights flown will be awarded for new bookings only made between July 8, 2014 and August 29, 2014, for travel on select eligible flights between July 8, 2014 and October 31, 2014. In order to qualify as a new booking, the booking must have been created for the first time with a new booking reference number during the eligible booking period of the promotion. Any booking made prior to the start of the promotion that is subsequently changed to include travel dates within the qualifying travel period will not be considered a new booking that is eligible for the promotion.

The Double Aeroplan Miles will be applied exclusively towards miles earned based on distance flown as per the fare mileage accrual rules. The class of service bonus miles and miles earned in conjunction with the Altitude Bonus Select Privilege are excluded.

Valid on select eligible scheduled non-stop flights operated by Air Canada (including flights operated under the Air Canada Express brand) only for travel between July 8, 2014 and October 31, 2014.

To qualify, the round-trip or two one-way flight segments must be travelled in the eligible fare options (booking classes) within Canada:Tango (S,T,L,A,K); Flex (M,U,H,Q,V,W,G); Latitude (Y,B); Premium Economy Lowest (E,N); Premium Economy Flexible (O); Business Class Lowest (D,Z,P); Business Class Flexible (J,C).

A minimum of one round-trip or two one-way segments is required to earn any Bonus Aeroplan Miles.

Valid on published fares and Flight Passes which are eligible for Aeroplan mile accumulation. Offer is not valid when traveling on an Air Canada Unlimited Flight Pass.

Bonus Aeroplan Miles are not Altitude Qualifying Miles and do not count towards Air Canada Altitude.

Bonus Aeroplan Miles will be credited up to three weeks after the qualifying flights are completed.

Upgraded flight segments (eUpgrades, Last minute paid upgrades, Star Alliance Upgrade Awards, etc) will be tracked for this promotion based on the eligibility of the original Economy Class fare purchased.

Aeroplan Flight Rewards are not eligible for mileage accumulation.

Bonus Aeroplan Miles cannot be sold and are non-transferable. They have no cash value and cannot be converted to cash or refunded if unused.

Offer is subject to change at Air Canada's sole discretion without notice; other conditions and restrictions may apply.