If you're in the market for a new car, take a look at the 2014 Volvo S60, XC60, or XC90. Because until May 31, 2014, you'll not only get the exceptional safety and stylishness that Volvo is known for you'll also drive off with 25,000 Aeroplan® Miles. Plus, if you upgrade one of these models to the R-Design package, you'll earn an additional 15,000 bonus miles, for a total of 40,000 miles.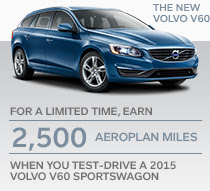 By the way, for a limited time, you can also earn 2,500 Aeroplan Miles just for test-driving a 2015 Volvo V60 Sportswagon.
Not too shabby! I wonder if my wife and I each test-drive will they give us 5,000 total?
I hope I don't walk away buying another vehicle though.