How many of you are AIR MILES Collectors?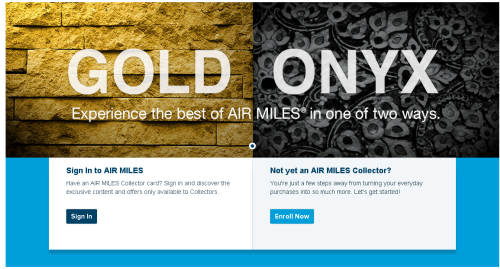 How many of you are Oynx though?
This is achievable by earning 6,000 AIR MILES in one year! This to me seems impossibl
Onyx Benefits
Greater access to airline seats
Book select flights using up to 40% fewer reward miles
Preferential pricing on cruises and vacation packages
Merchandise for up to 50% fewer reward miles
Priority service at the Call Centre
team dedicated to finding and getting a variety of rewards outside of the online Catalogue
Get requested items using reward miles from your Dream balance
Unforgettable Events & Contests
20% fewer reward miles on seasonal activities and dining
Invitations to Exclusive Onyx-inspired gatherings
Free movie passes to select films
Bonus offers into Meet & Greet Contests
Special monthly Giveaways
Are there any die-hard AIR MILES collectors out there?
I have avoided AIR MILES after I tried to book a flight on-line and had to put up with too many fuel surcharges – they are more useful for Shell gas cards than actual travelling unless you find a redemption without a lot of taxes.