Have you ever used Uber?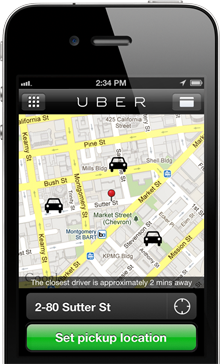 It is basically an on-demand car service. You install an app on your smartphone or use your browser and request a car pickup. You then request where you want to go and your bill is sent to you (no need to worry about the gratuity or tip on the spot.
New members who are referred by an existing member like myself are now starting off with $20 towards their first trip (the referring member also gets $20). This is my referral link.
The only Canadian city this is available in is Toronto at the moment but you will see dozens of US cities so this is a good app to have and the $20 credit to start off with is a nice touch!
Use my referral link to enjoy $20 off your first ride.
How does Uber work?
Set your location with the iPhone/Android app: fix the pin or search for an address.
Text your address to 827222 (USA & Canada only)
Confirm your pickup request
Uber will send you an ETA (usually within 5-10 minutes)
When your car is arriving Uber will inform you again.
Hop in the car and tell the driver your destination.