Have you ever stayed at a hotel in the Leading Hotels of the World group?
It is a collection of more than 400 properties worldwide that offers a great set of perks that you can buy (I think for some it is a great deal)!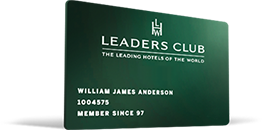 For just $150 US you can get the following:
Receive complimentary continental breakfast for two each day.
Enjoy even more luxurious accommodations with a one-category room upgrade.*
Earn one complimentary night at any Leading Hotels for every four or five stays completed before your anniversary date.
With free Internet access, we enable you to be as far away or as linked in as you desire.
Special rate privileges available only to Leaders Club Members
Early check-in, late check-out considerations**
Unique welcome gift for you at each Leading Hotel
Invitations to Leaders Club Events held near your hometown
Invitations to Leaders Club Events held at properties during your stay
Enjoy the exclusive advantages of the Sixt Platinum Card which include up to 15% discount and an upgrade on all offline and Internet private customer rates of Sixt rent a car valid at time and place of rental.
Luggage Free – Send your luggage ahead to nearly any destination, worldwide, to avoid the inconvenience of carrying, checking and claiming bags — even going through customs. Leaders Club members can take advantage of this door-to-door service to over 130 countries worldwide.
Leaders Club members will receive a complimentary two (2) year Leaders Club Unlimited membership with the purchase of your first 25-hour Marquis Jet Card, NetJets Share or NetJets Lease.
Leaders Club members can upgrade their travel experience to nine major cities in Italy on Italo trains to Club Class when purchasing a Prima Class ticket. In Club Class, you will enjoy the comfort of fine leather seats and free Wi-Fi, as well as complimentary food and beverage during the journey.
Not bad for $150 considering breakfast in these cities can be expensive!
They have a better package at $1200 which includes a Priority Pass membership and even airport transfers but I am not sure it would be worth it.
Here is a link to their program.