This is a beautiful ship – very tasteful and classy but it is not extravagant. There is plenty of room for everyone on board and no major bottlenecks for passengers. You will find official documentation and instructions in Italian, German, French, Dutch, and English.
We had some hits with the food on board (veal shanks and roasted salmon and cheesecakes) and misses like gnocchi where you needed to chew (instead of melting in your mouth – no potatoes?).
We really enjoy the breakfasts (enough of our breakfast cereal favourites and great coffee) on the cruise and versatility of the menus for a 10-day cruise.
The entertainment was incredible – I could sit at the piano bar every night and I was a happy guy! The musicians and singers are talented performers.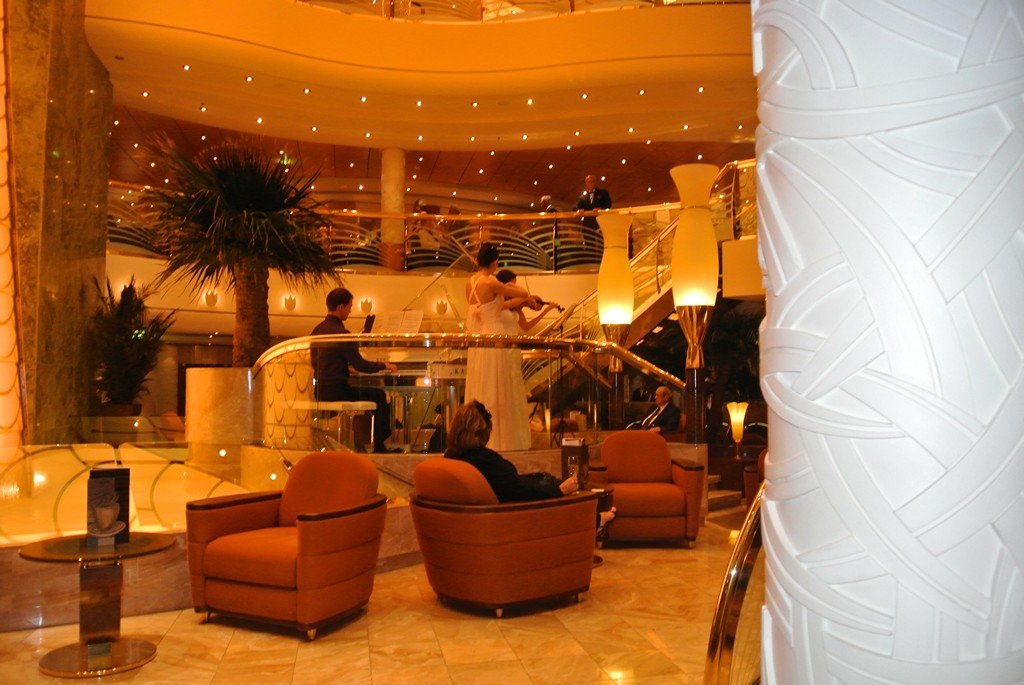 The main problem with this cruise line is the service and communication. First, English is a second or third language for many employees and this doesn't work when the majority of passengers are from North America.
I asked numerous employees for directions on board and I received answers like "Yes, Sir". Well, I didn't ask for a yes or no answer, if you do not know then ask a supervisor.
Another thing employees must realize is that even though someone may not look Italian, they can understand what you are saying (employees were speaking about us one evening when going to the formal restaurant).
Also, the main managers of the area, cafeteria, entertainment, security, excursions, always had a frown on their face. I mean to see them smile I would expect them to make an announcement on the intercom!
Cleanliness is important in the dining areas and I expected an employee to force all passengers used hand sanitizers when using the buffet. I didn't experience too much confidence in the cleanliness and I spoke to other passengers that felt the same way.
One excursion that we booked was the Montego Bay Shuttle Bus (for $20 per person). This was from the Falmouth, Jamaica stop. I recommend staying at the port and avoid this tour because this just takes you to the same type of shops in Montego Bay. This city I will never go back to (vendors are pulling you into their shops and areas to buy their t-shirts and souvenirs). The port area is easy to access and less pressure to buy anything.
Finally, another major problem is that even though it seems to be family friendly the cruise line is not when it comes to toddlers and infants. Children under 3 cannot take part in any of the official Kids Club or Mini Club activities. All I was looking for was an area where we can bring her to crawl around and play with some toys – not a miracle to ask for.
I like some aspects of this cruise line but I wanted to point out some of the problems of the ship before making your decision to book your next cruise.
Housekeeping was not as one would expect on this cruise line. I actually made a complaint because my rooms was not cleaned at 4:00pm not to mention the smelly diapers starting to stink up the whole cabin. Needless to say I think my I made a statement when I placed the garbage filled with spoiled diapers in the hallway because that never happened again.
Children's pool was not open throughout the whole 11 night cruise but we overlooked this when taking her to a wading pool in the main lounge.