This Hilton Resort is been named a Hawaiian village for good reason.
This property is at the opposite end of Diamond Head in the heart of Waikiki Beach. This hotel resort is HUGE – has over 22 acres of property to cover (it even has two Starbucks on the property). It has over 20 restaurants and bars and on Friday evenings has a free fireworks show (great value and time at 7:30 for the kids).
At check-in because of my Hilton Gold status, I was upgraded to the Rainbow tower in a suite with a high floor with a view of the lagoon.
Our daughter enjoyed seeing the penguins and the turtles and the koi fish around the hotel.
Some problems I saw saw that the Super pool was freezing! Another problem is that since the children's pool is connected – as soon as an accident happens – the pool is shut down. Good thing they have another huge pool at the Tapa tower.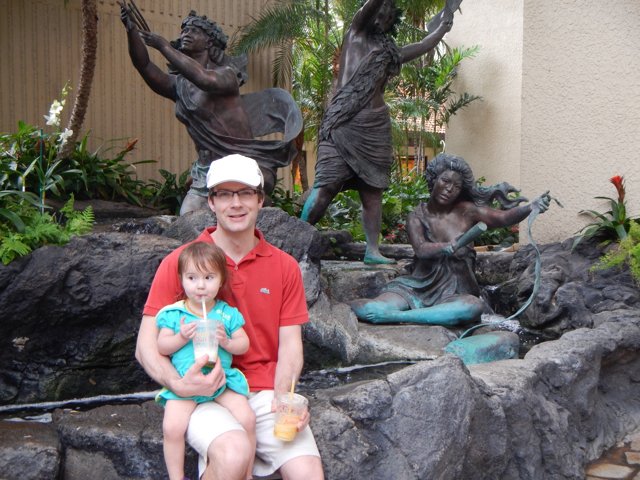 The daily activities are too early for people on holidays – who wants to wake up at 6 am to take a yoga class – couldn't they have it at 7 AM or 7:30 AM?
This was an accidental visit for us. It was a prepaid vacation that was offered months in advance (for a an unbelievable price) after searching for accommodation for our last holiday in New Orleans. As we arranged our stay in New Orleans it was offered as a Vacation Ownership promotion. To make a long story short we ended up purchasing a Hawaiian vacation that was never planned only because it was such a great offer. I'm glad we did too!
Breakfast time at the Hilton Hawaiian Village worked out well with a great breakfast of nice juices and coffee, tea, muffins, fresh fruit, and cereals (just what I enjoy).
Here are some photos of our suite. Our daughter had lots of room to run around.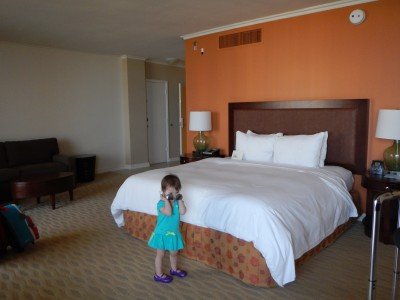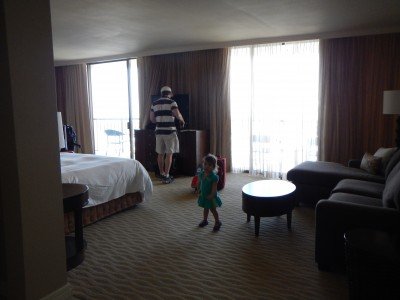 Hilton really knows how to provide top of the line service to their members.  I am never disappointed with my stays at any of the Hilton Properties. Our room was LARGE, two balcony's overlooking Duke Kahanamoku Lagoon, sofa and a lounging area where we ate lunches, bar fridge, spa bath with separate shower and an area to unpack move in for the week.
Travelling with a toddler can be a challenge in confined hotel rooms but here there was no issue.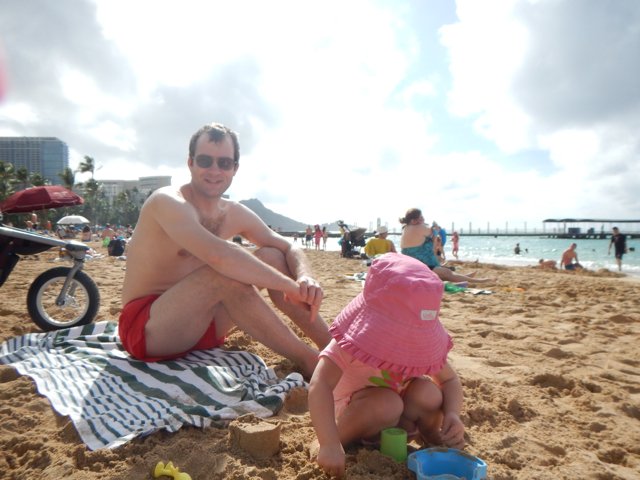 The Hilton Hawaiian Village also provided us with a coupon booklet to eat at the village's restaurants. Some were small discounts like a free appetizer while some were 15% off at the steakhouses. We made the most of the coupon booklet and remained on the property for most of our stay. It has everything you need so you don't really need to venture far if you just want to relax.
My highlight of the Village was the Friday night firework show that started a 7 pm – perfect timing with a toddler.
I also enjoyed the Luau from our balcony 3 nights in a row. Watching the fireshow and the Hula dancers in the privacy of our hotel room was a real treat as well as a money saver. The first night we ordered pizza and hung out on the balcony watching the show.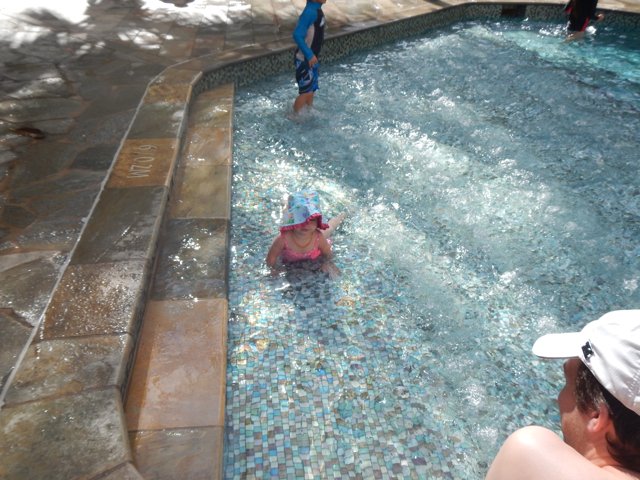 The wildlife in the village was a nice treat for my daughter although she always watched from afar never getting too close. The expansive tropical gardens are impressive.
With all those pools only one was heated, the other 4 were like ice baths. Not many people hung out in those pools only around them. It made the heated pool with slides packed with parents and young kids running around until one kid decide to go pooh in the pool. Then the fun was over and he pool was closed.
We made our way to the Tapa pool which wasn't heated but had a large shallow area that made the water warm and toddlers friendly. I actually enjoyed that particular area better.
This was another successful Hawaiian Vacation on the shores of Waikiki Beach.