Rocketmiles is a Chicago-based startup that lets travellers earn frequent flier miles in major airline programs when booking hotel stays through its site.
It is a great way to earn bonus Aeroplan or Alaska Miles. The prices are quite comparable to other hotel websites, but do a calculation to see if it is worth it?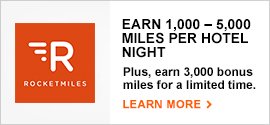 To be eligible, the hotel reservation must be booked by 30 June 2015 .Limited to first time customers and subject to investigation post-purchase. Limit one per customer. Limit one per stay. Promotional offer can not be applied to existing bookings or retroactively applied to bookings not made using the link above.
Here is a link to register with RocketMiles.