Earn 30,000 bonus points with your first card purchase – worth $300 in travel. This card awards Scotia Points where basically when you redeem 1000 points you get $10 towards any travel related expense. So 30,000 would be worth $300 in free travel. Keep in mind that the annual fee is $99.
cds
Here is a rundown of the benefits:
Earn travel rewards up to 4x faster Earn 4x Scotia Rewards points for every $1 you spend at eligible gas stations, grocery stores, on dining and entertainment
Extraordinary travel benefits Receive discounts and other special amenities at hotels, on airfare, car rentals, cruises and vacation packages
24/7 Full Service Travel Agency Book online or call Scotia Rewards Travel Service
Flexible Point Redemption Purchase travel on your card from any travel provider, then call or go online to redeem your points for the travel purchase.
Comprehensive travel insurance Includes travel emergency medical (up to 25 days)
Complimentary Concierge Services 24/7 assistance with your travel and lifestyle bookings
Access to Priority Pass Lounges Worldwide
This is what they show based on my monthly spending (I would probably just get this card for the one-time bonus and apply it to a ferry trip or something I can't use my Aeroplan or other points for!):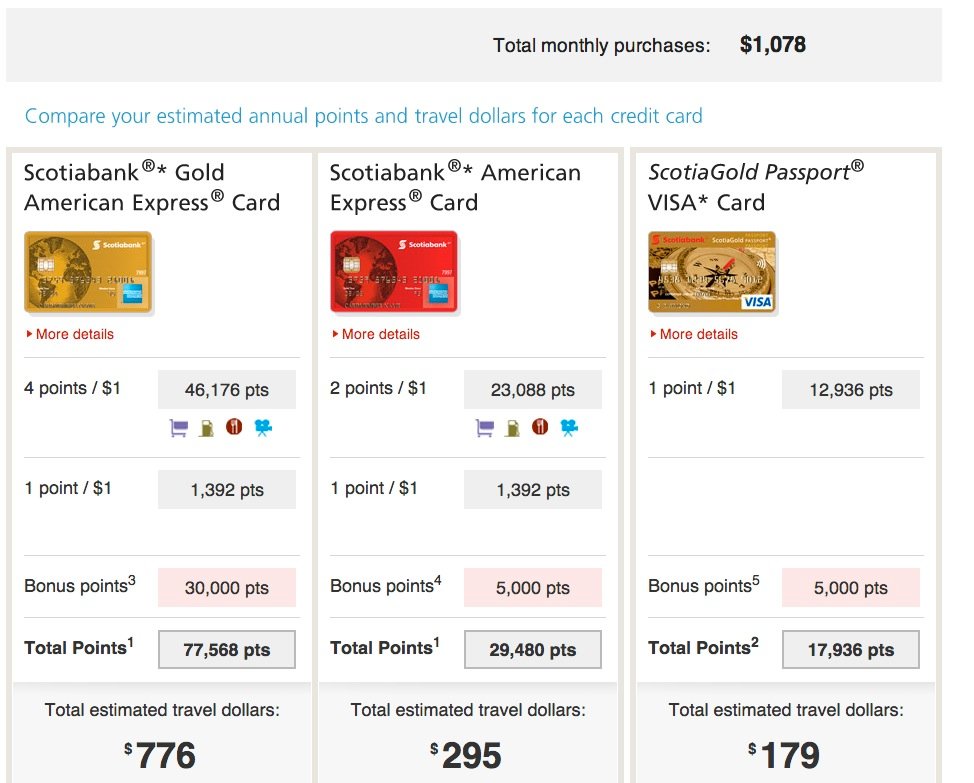 For my overview it is a great secondary card with the category bonuses for grocery and gas and the free lounge access with Priority Pass. The $99 annual fee is reasonable with the great benefits and insurance that you get. I still like the bonuses for other cards more but it is a good card to have in your wallet!
Here is a link to the application.