Check in to one of 37 participating downtown hotels through Sept. 15 and get a Visa gift card loaded with up to $125 per night for your first and second night's stay.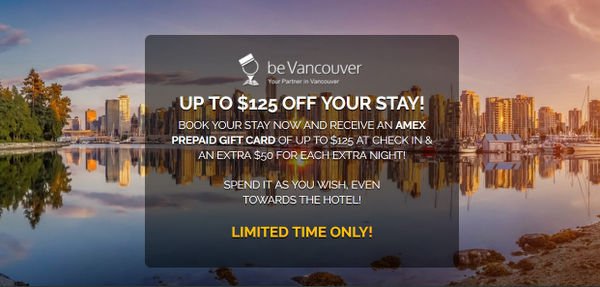 Book up to three more nights for an additional $50 card per night. And the best part is that you can use the gift cards toward anything, including the room itself.
Book through StayVancouverHotels.com using promo code "VISA" to get this offer. If you change your mind, this deal is cancellable until 48 hours before arrival.
The Details: 
• Book through StayVancouverHotels.com using promo code "Visa". 
• Booking subsequent nights as separate reservations will be treated the same as a single reservation for multiple nights. 
• The first night and second nights qualify for the full reward amount plus a $50 Visa Reward card per up to 3 subsequent nights. 
• Three bookings maximum per person. 
• Stay must be between now and September 15, 2020. 
• Bookings are cancellable up to 48 hours before check-in date. 
• Visa Reward card(s) will be delivered at check-in. 
• Bookings can be made using VISA, MasterCard, or American Express. 
• This offer is limited and may end at any time. 
• Please note that hotel amenities & services may be limited. Please check with the hotel directly. 
• StayVancouverHotels.com Terms & Conditions Apply.