I found a nice offer on the TD First Class Visa Infinite credit card 40,000 Bonus Points and first year free.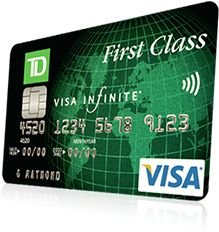 With the TD First Class Travel Visa Infinite* Card, you'll receive a Welcome Bonus of 20,000 TD Points, if your application is approved. Once approved, if you spend $1,000 in Purchases on your Card within the first 90 days of Account opening, you can get an additional 20,000 TD Points AND the Annual Fee for the Card for the first year will be reimbursed by TD!
You must apply by May 8, 2015 to be eligible for this offer.
Depending on the type of card you have, you can learn more about the value of your rewards points through the TD Rewards website found at www.tdrewards.com.
If you have the TD Infinite, Platinum or Classic Travel Reward card, you can find out how much your travel points are worth by going to this link.
TD Points are another way for you to pay for all or part of your travel. You can redeem TD Points online through Expedia For TD for flights, hotels, car rentals, vacation packages and activities. To complete a travel purchase, you'll still use your TD Credit Card. When you use TD Points for all or part of your trip, you'll receive a credit on your TD Credit Card statement equivalent to the TD Points redeemed for your travel purchase.
You're able to use TD Points if:
Your TD Credit Card is in good standing
You have at least 10,000 TD Points
You, the primary cardholder, or an authorized travel arranger, book the travel
Every 10,000 TD Points equal $50 off the cost of travel purchases with Expedia For TD. All you need is a minimum of 10,000 TD Points to start redeeming. TD Points must be redeemed in increments of 10,000 TD Points.
So there you have it – free $200 of value for Expedia.ca
Here is the link to the card.