WestJet has introduced improvements to its Plus product, available for booking starting today (May 6) for travel beginning Sept. 14.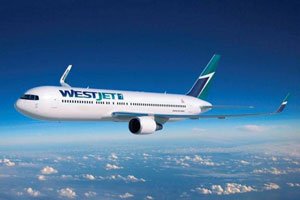 "The evolution of Plus is primarily targeted to business travellers who look for more comfort, flexibility and convenience," said Bob Cummings, WestJet executive vice-president, Sales, Marketing and Guest Experience. "With our growing network of nearly 100 destinations, ever-improving flight schedule and loyalty benefits offered to WestJet Rewards members, we are well positioned to meet the needs of travellers who are always on the go."
Guests in WestJet's Plus seating will enjoy more personal space and comfort. Middle seats in Plus on WestJet's Boeing Next Generation 737s will be outfitted with a new tray table between the aisle and window seat, giving guests a guaranteed empty middle seat for more space to work or relax during their flight. Seats in Plus on WestJet's Boeing 767 aircraft will be wider than the airline's current seats, arranged in a two-two-two configuration, with an aisle separating each set of two seats.
WestJet is upgrading meal options for guests in Plus to include a premium boxed meal on longer 737 flights and premium hot meals served on 767 flights, both with complimentary alcoholic beverages.