I have not been on a WestJet flight in years (been trying to redeem my Aeroplan miles)!
Flight WS532 from Calgary to Hamilton at 0650 is the first public flight of the new In-Flight Entertainment and Communications system.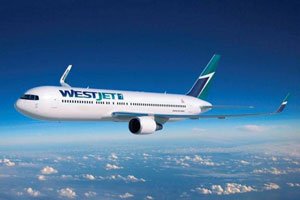 WestJet Connect
WestJet Connect brings the internet and the best in entertainment straight to your laptop, tablet or smartphone while you are in the air. Bring your own device and download the WestJet app before your flight and you'll be ready to go.
Internet connectivity
Ever wonder if email travels faster than a plane? Now you can find out with our on-board internet access. Purchase a Flight Pass for $7.99-9.19 (Flight Passes are good for a single flight).
TV and movies
Take your pick between complimentary and paid content including new and classic movies, TV episodes and live-streaming TV. During our introductory offer, you can watch all paid programming for free.
In-seat power
Keep your devices powered up on our Boeing 737 aircraft equipped with new Slimline seats and a 110-volt AC (compatible with North American, European and British standards) and 5-volt direct DC USB power plug-in at your seat.
Travelling on one of our 767 aircraft? You'll have a direct DC USB power plug-in at your seat. Guests in Plus will also receive 110-volt converter for use during the flight.
Forgot your charging cable? We've got your covered. Purchase a WestJet-teal charging cable on board. This single cable includes three connectors: micro-USB, Apple 30-pin and Apple Lightning.
We are in the process of updating our aircraft, please be aware that not all of our aircraft are currently enabled with WestJet Connect.
Tablet rental program
WestJet has introduced tablet rentals as we transition to our new inflight entertainment system. A limited number of tablets will be available on some of our newest aircraft instead of live seatback television for flights over three hours and 20 minutes, not including our red-eye flights. Guests will be able to rent a tablet preloaded with movies and television shows. The rental price is $6.99-8.04.
Live seatback television, inflight movies and shows
WestJet is pleased to offer live satellite seatback television provided by Bell TV on some of our Boeing 737 flights within Canada. You'll get to choose from our channel line-up of the best in sports, news, lifestyle and more. On domestic flights of 2.5 hours or longer you can also watch one of the latest pay‑per‑view Hollywood blockbusters.
WestJet flights serving great U.S. and international destinations will offer either seatback television with complimentary stored programming or a limited number of tablet rentals, for a fee, on flights without seatback television. We also recommend bringing books, magazines, tablets, portable DVD players or toys for your little WestJetters. For a description of our tablet rental program please see above.
Earbuds
Earbuds are available for purchase on all flights that offer inflight entertainment options. They're yours to keep, so you can use them on all your WestJet flights (they're also compatible with all your other gadgets). If you have your own earbuds, bring them along. All 3.5 mm (approximately 1/8 in) stereo headphone connections (with one prong) will work with our systems.
Travelling with WestJet Encore
As our WestJet Encore turboprop aircraft are not equipped with an inflight entertainment system, we recommend bringing books, magazines, portable DVD players/tablets for yourself and some toys for your little WestJetters. Just remember your carry-on allowance is limited. You can also enjoy WestJet Magazine – our inflight magazine – available in the seatback pockets.